FALL MEETING 2019
Mid-Atlantic Chapter & Northeast Chapter Fall Meeting: Sept. 12 to 14, 2019
Host: Red Mill Museum Village, 908-735-4101
56 Main Street, Clinton, NJ 08809
Host Hotel: Hampton Inn, 16 Frontage Drive, Clinton, NJ 08809; Phone: (908) 713-4800. Located off exit 15 of Route 78. Call Hampton to reserve, and mention Group Name: RED MILL; Group Code: RED, when you register, to get the preferred rate of $139.00 per night, plus taxes. 20 rooms are blocked. Breakfast is included. Other hotel nearby: Holiday Inn Clinton, 111 West Main Street, Clinton, NJ 08809. 908-735-5111.
Thursday, Sept. 12, 2019: - Meet and Greet Appetizers / Dinner 4 to 6 pm: at The Clinton House Bar and Restaurant, 2 West Main Street, Clinton, NJ 08809, (908) 730-6230. (Parking at the Red Mill Museum Village, 56 Main Street, Clinton and walk), 540-886-1833. We have reserved a space for SPOOM-MA members, pay on your own. This or other restaurant choices for Dinner: See Friday 5:30 Below.
Friday, Sept 13, Bus Tour:
8:00 AM: Board the tour bus at the Hampton Inn, Clinton for a short ride to:
8:45 AM to 10:15 AM: Ralston Cider Mill, Mendham, NJ (1.5-hour visit) The only operational cider mill functioning from the once thriving cider and applejack industry in New Jersey. The massive stone walls and heavy timber structure was built in 1848. There is a hidden still that kept this distillery to operating through prohibition. Water power is transferred by shafts, pulleys and belts to drive conveyors, chopper and large, powerful presses.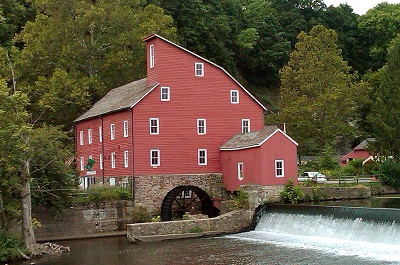 11:15 AM to 12:30 PM: Great Falls of the Passaic River National Park, Paterson, NJ. View Hydro-Electric Plant; Take Walking Tour to see future grant projects to restore mill-related sites and waterways. One of the highest in the nation, the 77 feet high waterfall, once powered local industries, in an ambitious project led by Alexander Hamilton. The Great Falls' raceway and power systems were designated an Historic Civil Engineering Landmark in 1977.
1:30 to 2:00 PM: Lunch at Eagle Rock Reservation, West Orange, NJ: Box lunches will be served after departing the bus. Eagle Rock is a 400-acre forest reserve and recreational park in the First Watchung Mountain of New Jersey, owned and administered by the Essex County Department of Parks, Recreation and Cultural Affairs.
2:15 to 4:00 pm: Thomas Edison National Historical Site, West Orange, NJ. (2 hour visit): Thomas Edison Laboratory and Residence, for more than 40 years had a major impact on the lives of people worldwide, producing such inventions as the motion picture camera, improved phonographs and sound recorders, silent and sound movies and electrical storage batteries.
5:00 to 5:30 pm: Return to Hampton Inn, Clinton, NJ. Dinner on your own; select from many restaurants in Clinton area, including the Clinton House, a high-end bar / eatery. ($$$) (908) 730-6230; The Dora Restaurant, casual Italian Fare. ($$) (908)-735-4171; Clinton Burger Co. ($) (908)-335-8238; The Clean Plate Kitchen, Vegan-friendly American fare with local, organic focus, waterside. ($$) (908)-200-7610. Further restaurant details will be provided.
***Friday / Saturday Tour Cost of $84 includes transportation, tour fees, and lunches. Register for the bus tour by September 4, 2019.
Saturday, Sept. 14: Breakfast at the hotel or another choice in the area. Check out of the Hampton Inn 8:00 to 8:30.
8:30 to 8:45 AM: Drive on your own or car-pool to Red Mill Museum Village, 56 Main Street, Clinton, NJ 08809, 908-735-4101.
9:00 to 10:30 AM: Tour Red Mill Museum Village. The Red Mill is a 4-story grist mill and historic site located along the south branch of the Raritan River in Clinton, New Jersey. It was built circa 1810 as an industrial mill. It has served several roles, including a wool processing plant, a peach basket factory, and a textile mill.
10:30 to 12:30: Semi-Annual Meetings of the Mid-Atlantic & Northeast Chapters of SPOOM.
12:30 to 1:30 (1:30 Tour): Travel to Cooper Mill on your own, Black River Park (578 Acres), 66 Route 24, Chester Township, NJ 07930. The oldest existing mill in Morris County built in 1826 and listed on the National Register of Historic Places. Operational since renovation circa 1980.
Special Visit to be announced: Asbury Mill, hosted By Musconetcong Watershed Assoc. 10 Maple Ave, Asbury, NJ 08802 (Warren County, NJ). A Graphite Mill – More information to follow …
***Saturday Cost is included in the general fee, or separate Saturday Only cost at $24.00 includes mill tour / demonstration, meeting, and lunch.
******************************************************************************
2 Ways to Register.
Online - Click here
By Mail - Use this link for a registration form and further details about our September 12-14 meeting hosted by Red Mill Museum Village in Clinton NJ.