MILLING LINKS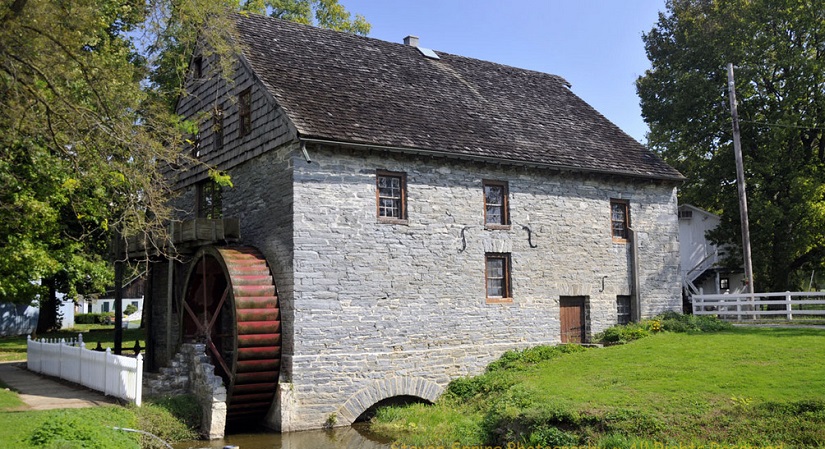 Steven Spring Photography - All Rights Reserved
Historic Mills on Facebook
Chat with others who share your interest in mills and milling
Historic Mills on Facebook
A new group for those of Midwest US with an interest in mills and milling
Catalogue of US Historic Mills
An Archive of photos of historic mills in the US
Aberdeen Mills
Elizabethtown PA This is the web page of the historic Aberdeen Mills. It provides historical and program information with many photos.
Colvin Run Mill
Fairfax County VA Information about the historic 1811 Colvin Run Mill in Fairfax County Virginia
Oregon State Parks and the Thompson's Mills
This is the web page of the Oregon State Parks that contain the historic Thompson's Mills.
Peirce Mill
Washington, DC The web site of the Friends of Peirce Mill, Washington, DC
Philadelphia's early industries and an introduction to Oliver Evans
This web site provides technical information on the early American industries in Philadelphia. In the Introduction is a description of the Oliver Evans Chapter of the industrial technology society.
The Tide Mill Institute
The institute seeks to advance the appreciation of tide mill history and technology through research, education, and preservation.
Saint Vincent Gristmill
Latrobe PASaint Vincent College has preserved the original 1854 steam powered grist mill built by the founding Benedictine monks. The mill operates today, provides tours, a gift shop and coffee shop in the mill building.
Bollinger Mill
Burfordville, MOThe web page of the historic Bollinger Mill
The Inn & Mill at Gristmill Square
Warm Springs, VAThis site provides history and photos of the historic landmark restored mill and inn.
The Mill at Anselma
Chester Springs PAThe history, programs, and photos of the preserved and operating 18 century mill at Anselma
The SPOOM Web Site
The site for the Society for the Preservation of Old Mills with links to other mill sites, chapter news, and listing of US mills.
The Ted Hazen Site
The Ted Hazen web site. This site contains extensive information on all aspects of historic mills and their preservation.
The Union Mills is located on Route 97, 7miles north of Westminster.
This is the site for Union Mills Homestead & Grist Mill, 3311 Littlestown Pike, Westminster, MD, 21158
Great Falls, VA Historical Society.
This web page, under "Local Lore" conatains numerous articles on the history of the Great Falls, VA community including the history of the Colvin Run Mill.
Mercer Museum Library
The Index at the Mercer Museum Library contains information on many documents and photos on historic mills in the Mid-Atlantic area.
TIMS-The European Milling Organization
This is the home site of The International Molinological Society (TIMS). It provides information on its activities and publications.
Yates Mill
Raleigh NCThis 1756 mill is currently the last mill of approximately 70 that were in and around what is now Wake County.
York County Pennsylvania Historical Trust Web Site
The York County, PA Historical Trust with information on historic mills in York County